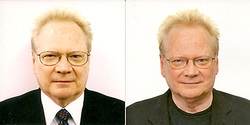 There's an old Chinese proverb that says, "Buy the best and cry once." I've always tried to live by that motto, but sometimes I slip a little. Yesterday (since I was wearing a suit and tie--I decided to have a new passport picture taken because my passport will expire this summer.

So I went to a local drugstore that also has a photo department—and where they take passport pictures. I should have known better, but the drugstore is only one block from my apartment.

The kid who took my picture couldn't have cared less how I would look in the photograph. He pulled a cheap little digital camera out of a drawer and had me stand against a white wall. He knew nothing about photography. All he knew how to do was to print and trim the picture to the required 2x2 inches for the government's passport application form.

Now, no one expects a passport picture to look great. It is, after all, simply a mug shot. But is it really necessary to look like a criminal who was just arrested for tax fraud? And don't forget, a US Passport picture is good for ten years.

So today I Googled "passport pictures, NYC" and found a real photo studio that also does passport pictures. But it was farther away from my apartment. And, of course, the fee was a few dollars more than at the drugstore.

Both pictures are included here—the drugstore shot being the one on the left.

As a former semi-professional photographer myself, here are some tips about how to have a good (or at least not a bad) headshot taken of yourself.

1. If you are over 40 years old, insist that the photographer shoot you from at or slightly above eye-level. When you are shot from a lower angle you are basically getting an exaggerated picture of your neck. Not flattering.

2. Don't let the photographer stand any closer than six feet away from you (eight feet is better). That's because when the camera is in close to you your face will look like it is a stretched-out balloon. A professional photographer will use a "longer" lens, which captures more accurately how you really look.

3. Make sure the photographer uses diffused lighting—or "bounce lighting," as it is often called. It gives a softer look.

You be the judge—Drugstore (left) or photo studio (right)?